Bridget Winger
What do you love about working at Lafayette Christian School?
I love being able to pray with students and their families! I want my students and their families to know that I am here to pray for and with them anytime! This is one way we can grow together as a community of believers and point each other to Christ.
How do you incorporate a Christian Worldview in your work at LCS?
The students need to see the importance of Christ in all of life. Therefore, we talk about Christ in all our subjects. For example, we do a unit on baby chicks for a week. We have the privilege of talking about how God creates animals. We watch the chicks hatch in our classroom. We look at egg laying animals and how the egg protects them as they grow. It opens up discussions on how God protects us as we grow. Each subject has many opportunities to point the students to Christ and how it relates to our daily lives. We want the students to see Christ in all aspects of life and how He is present in our lives!
What would students be surprised to find out about you?
I love Ford Mustang cars! I am a rule follower when it comes to driving the speed limit, but I would have to be careful if I ever bought a Mustang!
What is your favorite Bible verse?
Be still and know that I am God. Psalm 46:10
This verse is a great reminder that we need to daily spend time with God. The busyness of life can deceive us and cause us not to put God first in our lives. I have a "go" personality and I need scripture to remind me of the importance of resting in God and continually building my relationship with Him! I want my students to see how important my time with God is each day!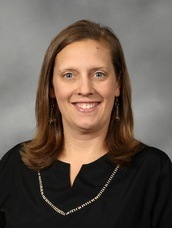 Bridget Winger
Kindergarten
Phone: 765-447-3052
Groups: Elementary,KG
Employed Since: 8/1/2002
19 Years Experience At School
Degrees
BA Purdue University (2001)