Jane Bennett

What do you love about working at Lafayette Christian School?
The staff at LCS has a history of being close-knit, cooperative, and selfless. We work together to accomplish each one's goals for the students, being adaptable when asked, giving extra when needed.

How do you incorporate a Christian Worldview in your work at LCS?
As we all do, I choose materials that uphold Christian values and that can open students' minds to the wonders of the people and the world God has created.

What would students be surprised to find out about you?
Students might be surprised to know I enjoy baking, gardening, and needlework as much as I love books.

What is your favorite Bible verse?
Romans 8:38-39: "For I am convinced that neither death nor life, neither angels nor demons, neither the present nor the future, nor any powers, neither height nor depth, nor anything else in all creation, will be able to separate us from the love of God that is in Christ Jesus our Lord."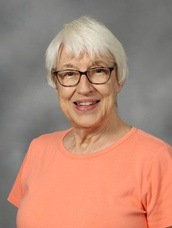 Jane Bennett
Library
Phone: 765-447-3052
Groups: Specials
Employed Since: 9/1/1986
35 Years Experience At School
Degrees
BS Bradley University (1973)