Judi Buchman
I am very blessed to teach middle school language arts at a Christian school. I believe that language arts covers both worlds, the logical as well as the more artsy. In grammar, the students learn the "mostly logical" structure of the English language. As we study literature , I challenge students to think critically and analytically as they encounter poetry and nonfiction and fictional works, to discern truth from falsehood, to become more mature in their Christian walk and worldview, and to grow in their appreciation of God's world and of the people He has created.
Language Arts includes five subject areas: literature, writing (composition), spelling, vocabulary, and grammar.
Grammar
General units covered in grammar include the following: punctuation, capitalization, parts of speech, types of sentences, and sentence structure. By the end of their eighth grade year, the students will have learned almost the entire body of knowledge of American English grammar.
There will be a test at the end of each section (for example, after studying the section about commas in the unit on punctuation). After a section of grammar has been covered and tested, students should be able to take a test over that material at any time. Thus there may be cumulative grammar tests. In class and homework assignments will be graded during each section of study.
Spelling and Vocabulary
Fifteen vocabulary words will be given every other week on Monday.
Eleven, nineteen, or twenty-four spelling words (depending on the student's list) will be given bi-weekly along with the vocabulary words.
A spelling/vocabulary assignment will be given on the spelling/vocabulary week. On Friday of that week, students will take both a spelling and a vocabulary test.
The last quarter of the year, word roots from Greek and Latin will be studied instead of spelling and vocabulary.
Writing
Some of the types of writing that will be taught and assigned are as follows: factual writings about real experience, three minute in-class writings, dialogues, creative writings, various types of poetry, reaction paragraphs to stories read in literature, friendly and business letters, descriptive paragraphs, outlining, essays, and discussion questions on literature tests.
Literature
About five to six poems will be memorized per year. Various types of poetry will be read and discussed. Works of famous poets will be studied.
Short stories of various genres and by various authors will be read, discussed, and analyzed. A novel may be read together as a class.
I love LCS, my subject area, and my students. I tell them that they give to me as much or more than I give to them. It is a joy and a privilege to join with parents and the church in training up these young people in the Lord. (Proverbs 22:6)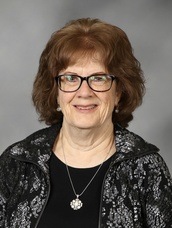 Judi Buchman
MS Language Arts
Phone: 765-447-3052
Groups: Middle School
Employed Since: 10/10/1981
38 Years Experience At School
Degrees
BA University of Utah
MA Purdue University