Kayla Del Valley
What do you love about working at Lafayette Christian School?
Lafayette Christian School has shaped my children's heart to be all about Christ. I think Christian education is a great way to allow children to learn academics as well as learn to love like Christ. Working at Lafayette Christian School is a family. This goes for parents, teachers, staff and the entire student body! I love LCS!
How do you incorporate a Christian Worldview in your work at LCS?
Integrating Christ in my lessons is easy. Everything that we do, academic or socially, can be pointed to Christ. From math to reading to writing we can always point materials to Christ. God sent the animals 2 by 2 so let's count by 2's! God wrote an amazing book called the Bible, let's read a story together! Since the Bible is God's love letter to us, let's write a letter to God to tell him thank you!
What would students be surprised to find out about you?
When I was in high school I was on the Varsity Cheerleading team and was a part of the Show Choir. In the Show Choir we sang and performed. We also had the chance to compete in the Bahamas on a cruise! We even got 1st place!
What is your favorite Bible verse?
My favorite Bible verse is Titus 2:7-8 "In everything set them an example by doing what is good. In your teaching show integrity, seriousness and soundness of speech that cannot be condemned, so that those who oppose you may be ashamed because they have nothing bad to say about us."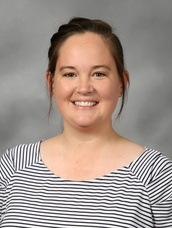 Kayla Del Valley
Kindergarten
Phone: 765-447-3052
Groups: Elementary,KG
Employed Since: 8/1/2017
4 Years Experience At School
Degrees
BA Western Governor's University (2017)