Kim Plantenga
What do you love about working at Lafayette Christian School?
I love LCS! I have been blessed to be part of this school family for many years. What makes it special for me is the sense of community I feel and see each day as I teach here. I appreciate how the LCS family supports one another with encouragement, helping hands, ideas, and prayer. They celebrate with you but also come alongside you during difficult times. I am thankful to work in a place where I daily see God's love in action.
How do you incorporate a Christian Worldview in your work at LCS?
I try to incorporate a Christian worldview by integrating God, his design in creation, and his Word in my teaching. I love that I can explore with students the amazing adaptations of plants and animals that God created or the beauty and diversity of nature as we study various regions of God's world. I love that I can encourage students to recognize and develop their God given abilities and use them to serve others. I love that I can teach students verses from the Bible that reveal more of who God is and that they can apply this knowledge to their daily relationships with others. I hope that I can show the students that God is a part of their everyday life, is always with them, and loves them.
What would students be surprised to find out about you?
I played basketball and ran track in high school.
What is your favorite Bible verse?
Philippians 4:13 " I can do all things through Christ who strengthens me."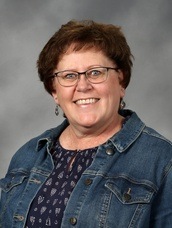 Kim Plantenga
2nd Grade
Phone: 765-447-3052
Groups: Elementary
Employed Since: 8/1/1984
37 Years Experience At School
Degrees
BA Calvin College (1983)
MA Purdue University (1990)