Kevin Sanson
What do you love about working at Lafayette Christian School?
I love sharing the love of God each day with the students and staff. I love hearing God's word and promises through our conversations and prayers each day.

How do you incorporate a Christian Worldview in your work at LCS?
I seek to show love, compassion, and patience to all. I strive to understand the content and context of my work and then relate it to the lives of the students and those around me with the lens that Jesus might use.
What would students be surprised to find out about you?
The students would be surprised to know that I love science fiction and fantasy movies and books. I like pie better than cake! I enjoy spending time with my family, camping, being outside, and tinkering.

What is your favorite Bible verse?
Joshua 1:9 - "Have I not Commanded you? Be strong and courageous. Do not be afraid; do not be discouraged, for the Lord your God will be with you wherever you go."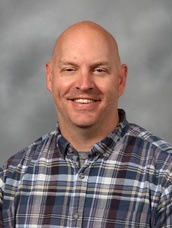 Kevin Sanson
Technology
Phone: 765-447-3052
Groups: Middle School
Employed Since: 8/1/2008
13 Years Experience At School
Degrees
BA Purdue University (1999)
Teaching Certification Indiana Wesleyan University (2007)
MS Purdue University (2015)