Laura O'Shaughnessey
What do you love about working at Lafayette Christian School?
I love the LCS community! The relationships built here are so special and have been like a family. I also love that we can worship God and grow together not only academically, but spiritually.
How do you incorporate a Christian Worldview in your work at LCS?
Romans 1:20 states, "For since the creation of the world God's invisible qualities - his eternal power and divine nature - have been clearly seen, being understood from what has been made, so that people are without excuse." God created our world and all the laws that govern it. When we study scientific principles, we can see characteristics of God! My job is to help students understand these science concepts in a way that glorifies God and teaches students to be stewards of His creation. It is also important to join together as believers to worship together, pray for each other, and encourage one another! In our conversations and attitudes, we can reflect the love of God to those in our community.
What would students be surprised to find out about you?
Even though I'm a science teacher, I am terrible at keeping plants alive! I definitely do not have a green thumb :) I also have dreams to someday be on a baking show on Food Network, even though I have no special culinary skills!

What is your favorite Bible verse?
James 1:2-4 - "Consider it pure joy, my brothers and sisters, whenever you face trials of many kinds, because you know that the testing of your faith produces perseverance. Let perseverance finish its work so that you may be mature and complete, not lacking anything." It reminds me that I need to keep going for God because our difficulties help us draw closer to him. God is still working in us and through us!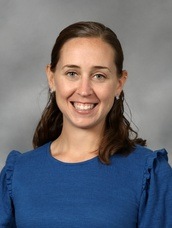 Laura O'Shaughnessey
MS Science Teacher
Phone: 765-447-3052
Groups: Middle School
Employed Since: 8/1/2009
12 Years Experience At School
Degrees
BA Calvin College (2009)
M.Ed Indiana Wesleyan University (2020)