Leslie Sutton
What do I love about working at Lafayette Christian School?
At the beginning of my first year at LCS, I would have said that the reality of being able to pray aloud, to openly express my faith, and to use the Word of God in concerts and in the classroom was the part I loved most about teaching at LCS. I am still excited about those parts of my job. Now, however, I have to add that the way I was folded into the school community of the families and staff makes me love working at LCS even more.
How do you incorporate a Christian Wordlview in your work at LCS?
In addition to growing students' enjoyment, understanding, and performance of music, I strive to help students appreciate music as an art form which allows them to express their feelings in worship. In class, we memorize scripture put to music, sing worship songs, and discuss the meaning of the songs we sing. When preparing concerts, I incorporate scripture as the foundation for what is being performed. Recognizing that each student is a unique individual created by God (in His image), I foster an atmosphere, in music classes, in which children are encouraged by me and their classmates to use music to hone their God-given talents.

What would students be surprised to find out about you?
When I was in elementary and middle school, I was REALLY scared to play piano in front of anyone other than my piano teacher and my family.
What is your favorite Bible Verse?
The words of Psalm 16 are some of my favorite verses in the Bible. Psalm 16:5-8 says "LORD, you have assigned me my portion and my cup; you have made my lot secure. The boundary lines have fallen for me in pleasant places; surely, I have a delightful inheritance. I will praise the LORD, who counsels me; even at night my heart instructs me. I have set the LORD always before me. Because he is at my right hand, I will not be shaken." These verses remind me that God is in control, that He is always with me and that He is trustworthy.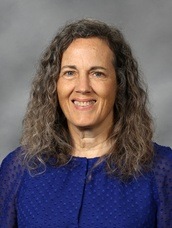 Leslie Sutton
Music Director
Phone: 765-447-3052
Groups: Specials
Employed Since: 6/1/2018
3 Years Experience At School