Lisa Vanderkleed
What do you love about working at Lafayette Christian School?
I love working at Lafayette Christian School because it is a loving, Christ-centered community. I have the privilege of working in an environment where it feels like "family." It is a blessing to work in a school where everyone wants and pursues what is best for the school, students, and families. As a teacher at Lafayette Christian School, I have always felt supported by the principal, staff, and parents. Working in the same school where our daughter attends is another added bonus of working at LCS. I also feel blessed to be able to freely share Christ every day.
How do you incorporate a Christian Worldview in your work at LCS?
To incorporate a Christian Worldview in my work, I try my best to look through the Bible at every situation and subject, and then find a way to convey that to my students. I do my best to teach my students to think and live like Christ in their thoughts, words, and actions. Whether interacting with my students behaviorally or academically, I try to reference God's Word, His truth on the matter, and remind them to look at each situation, and then respond as they believe Jesus would have responded. I try to make it a priority to help children look at and practice what God's Word says is right and wrong. I try my best to model that in my own life and in the classroom, and then promote my students to do the same in their own life. I hope that through our school and our teachings, both formal and informal, students will be trained in the "way they should go, and even when they are old they will not turn from it," and that, once they leave school, living for Christ will be their normal way of life. I hope that, in turn, they will not only know the importance of, but also choose, to help make other disciples.
What would students be surprised to find out about you?
I think my students would be surprised to find out that I vacation for two weeks in Minnesota each year with over 25 family members living in one cabin; luckily, it's a big cabin.
What is your favorite Bible verse?
Romans 8:28 - "And we know that in all things God works for the good of those who love him, who have been called according to his purpose."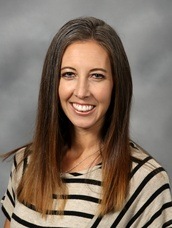 Lisa Vanderkleed
MS Math
Phone: 765-447-3052
Groups: Middle School
Employed Since: 8/1/2017
4 Years Experience At School
Degrees
BA Northern Kentucky University (2005)
MA Northern Kentucky University (2009)