Megan Doorn
What do you love about working at Lafayette Christian School?
While there are many things I love about Lafayette Christian School, I think the one that stands out to me is the sense of community I feel whenever I'm around LCS and its families. I love going to work everyday knowing I get to spend the day with the best coworkers and students! It's truly a joy to be able to share Christ with these kids as we educate them each and every day.
How do you incorporate a Christian Worldview in your work at LCS?
As Christians, we acknowledge that Christ is at the center of every single thing we do. And in PE, that includes our bodies and how we use them. We talk about the many gifts that God has given each unique child and how we can use those physical gifts to honor Him. We also share ways we can encourage and uplift one another as we interact with our classmates through competition. We recognize that sports can often bring out negative behaviors in each of us, so we strive to come up with ways we can respond and react in positive, God-honoring ways.
What would students be surprised to find out about you?
While I LOVE being active and playing almost every sport known to man, my ideal vacation is sitting on the beach with no plans whatsoever! I love taking time to relax and enjoy being with my family, even if it involves doing absolutely nothing!
What is your favorite Bible verse?
My favorite Bible verse is Colossians 3:23-24 which says, "Whatever you do, work at it with all your heart, as working for the Lord, not for men, since you know that you will receive an inheritance from the Lord as a reward. It is the Lord Christ you are serving." This verse serves as a constant reminder to me of why I do what I do each and every day....and who I do it for!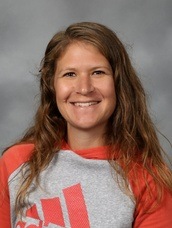 Megan Doorn
Physical Education & Athletic Director
Phone: 765-447-3052
Groups: Specials
Employed Since: 8/1/2013
8 Years Experience At School
Degrees
BA Trinity Christian College (2012)