Mary Edgar
What do you love about working at Lafayette Christian School?
I am thankful for the loving, caring, and joy-filled atmosphere at LCS. I love the opportunity I have to talk about God with my students, other staff members, and families. God is the focus of all we do at LCS, and I'm so grateful to be a part of this school family.
How do you incorporate a Christian Worldview in your work at LCS?
No matter what I am teaching, I want to include God in the conversation. I want my students to see His hand in all that they learn and experience. I want them to know He is always with us, whether in triumphs or in trials. He is our constant, and I pray I convey that to my students in the classroom each day.
What would students be surprised to find out about you?
I zip-lined across America's highest zipline, the Royal Gorge, in Colorado Springs, Colorado. I soared across the zipline at 1,200 feet above the Arkansas River!
What is your favorite Bible verse?
Jeremiah 29:11 - "For I know the plans I have for you," declares the Lord, "plans to prosper you and not to harm you, plans to give you a hope and a future."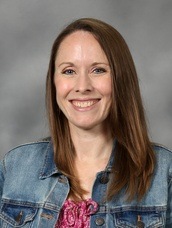 Mary Edgar
MS Language Arts
Phone: 765-447-3052
Groups: Middle School
Employed Since: 8/14/2018
3 Years Experience At School
Degrees
BA Purdue University (2001)
Teaching Certification Indiana Wesleyan University (2018)