Trevor Zonnefeld
What do you love about LCS?
I love how much the teachers love their students. It is so evident that the entire staff cares about each child academically, socially, emotionally, and most importantly spiritually. The community is like a family where conversations are consistently centered on Christ.
How do you incorporate a Christian worldview in your work at LCS?
My Christian worldview shapes every decision and conversation I have. As the Principal, I am always leaning into God and praying for discernment when making decisions. Through conversations with staff and students, I strive to show that Christ is present in all areas of our lives and we need to lean into Him at all times. I am constantly reminded of Abraham Kuyper's quote, "There is not a square inch in the whole domain of our human existence over which Christ, who is Sovereign over all, does not cry, Mine!"
What would students be surprised to find out about you?
I played sports in college, but despite my height, it was not basketball, but instead track and soccer.
What is your favorite Bible verse?
Joshua 1:7-9 "Be strong and very courageous. Be careful to obey all the law my servant Moses gave you; do not turn from it to the right or to the left, that you may be successful wherever you go. Keep this Book of the Law always on your lips; meditate on it day and night, so that you may be careful to do everything written in it. Then you will be prosperous and successful. Have I not commanded you? Be strong and courageous. Do not be afraid; do not be discouraged, for the Lord your God will be with you wherever you go."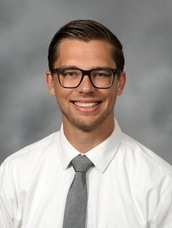 Trevor Zonnefeld
Principal
Phone: 765-447-3052
Groups: Administration
Employed Since: 7/1/2021
0 Years Experience At School
Degrees
BA Dordt University (2017)
M.Ed Dordt University (2021)